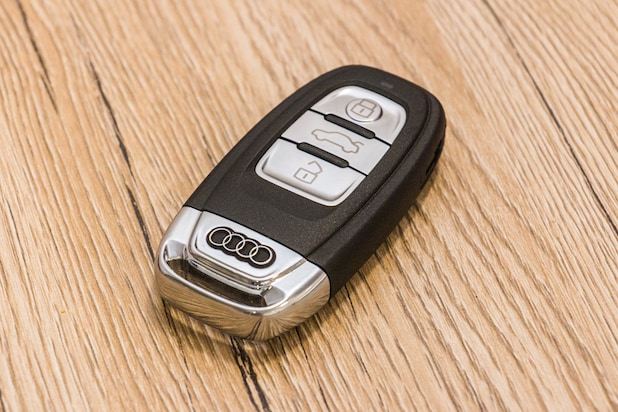 Is your Audi key fob presenting you with trouble and no longer working properly? Have you misplaced your Audi key fob entirely? Well, if the battery inside your key fob is due for a replacement, it may restrict you from certain things such as locking and unlocking your vehicle, opening and closing your trunk, or most importantly, starting your vehicle. If the problem resides within the key and you simply need to replace the battery, you can turn to the experts at our Audi Ontario dealership near Los Angeles for assistance. If you are unsure where exactly your key fob is, however, we also offer Audi replacement key fobs that can be programmed to work for your vehicle! 
Audi Parts Center
Order a Coded Key
When Should I Replace My Audi's Key Fob Battery?
Not sure when you should replace the battery in your Audi key fob? Be sure to keep an eye out for the following warning signs:
Difficult to Start: Is it taking longer than usual to start your vehicle? Is your Audi requiring you to hit the push-to-start button multiple times before actually starting up? If so, this could be an indicator of a low battery within your key fob. 
Unable to Open/Lock Doors: If you are unable to lock and unlock your doors or employ the panic alarm with your key fob, this is a sure sign that your Audi key fob battery is in need of replacement.
Visible Warning Light: In some vehicles, you may notice a warning sign on your dashboard that indicates an issue with the charging system. This can mean your key fob is losing battery power.
If you notice any of the low battery warning signs above, it's a good idea to have the battery checked at our Audi parts center, where our team of trained technicians can help you identify the type of key fob you have and order the appropriate Audi key fob replacement battery or replacement key fob if we don't already have one in stock.
Contact us today here at Walter's Audi Ontario to inquire about our Audi key fob replacements and key fob batteries! 
Why Visit Our Audi Service Center in Ontario?
We know that key fobs can easily be misplaced and that their batteries die without warning, but there's no need to worry, as our Audi Ontario service and parts center is here to help you in any way possible! Whether your key fob requires a new battery or it needs to be replaced entirely, you can visit our service and parts center anytime and we will be more than happy to correct the issue. 
In addition to our top-notch customer service and our state-of-the-art facility, we also offer a generous list of Audi service and parts specials that may just be able to save you money on your new Audi key fob or key fob battery. 
Audi Parts Center