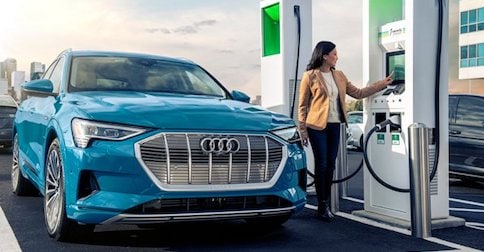 With hybrid cars and electric vehicles becoming ever-more popular, it's not uncommon for people to confuse the two. Anticipation is building for Audi's new e-tron® model, and you might be wondering: Is the Audi e-tron® a hybrid or electric car?
It's an electric car, through and through.
While hybrids use electric power to supplement their gas engines and get better fuel efficiency, electric vehicles are entirely electric. That means you charge it, drive it, and never think for a second about gasoline.
You might also be wondering how an electric car could possibly have enough range to handle your busy Los Angeles lifestyle, but the new Audi e-tron® for sale can put those fears to rest. It has an EPA-estimated 204 mile range, which is about two-thirds of what most equivalently-sized cars would get from a full tank of gas.
When you need more electricity, you can locate a charging station and quickly restore the e-tron® to its full charge. Just 10 minutes of charging off of a 150 kW DC charger is enough for an estimated 54 miles of driving, which means you never have to delay your life before you can get on the road and go.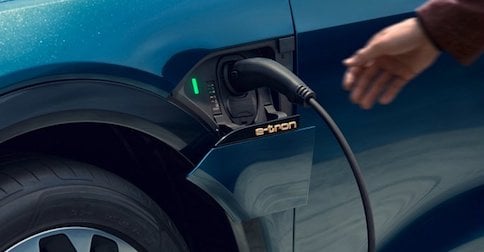 Find Your Audi e-tron® near Los Angeles
In shape, it resembles many of the models in the popular and acclaimed Audi Q series of SUVs, but under the hood it's a marvel all its own, proving that electric car performance doesn't have to be sluggish or uninspiring. In typical Audi fashion, the Audi e-tron® is a thrilling machine. It's rated at 402 horsepower and can get from 0 to 60 in 5.5 seconds. It even has an air suspension with five selectable modes, including one for off-roading.
To see one of these modern marvels for yourself, visit us here in Audi Ontario. We're the choice Audi dealer in the Los Angeles area, also serving Chino, Rancho Cucamonga, and beyond.