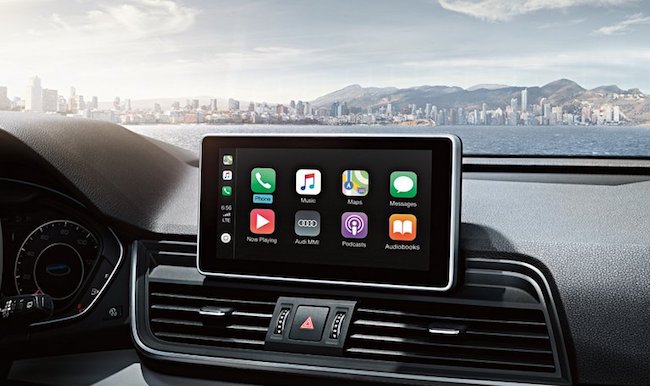 Obsessed with the sleek, seamless engineering and great functionality of your iPhone? Apple CarPlay turns your phone into an extension of your car--or your car into an extension of your phone. However you want to look at it, this handy feature delivers all of the great navigation, entertainment, and hands-free communication functions of your Apple smartphone directly into your vehicle's speakers and in-dash screen.
Of course, you'll want a car that offers the same sleek and masterful engineering as your phone. And for that, you'll want an Audi. Almost all of the new 2019 Audi models in our Los Angeles area showroom have Apple CarPlay either standard or as an available option. Here is the exhaustive list, standard unless otherwise noted:
2019 Audi A3 and A3 Sportback e-tron (available on Prestige model)
2019 Audi A3 Cabriolet
2019 Audi A3 Sportback e-tron (available on Prestige model)
2019 Audi A4 and A4 allroad
2019 Audi A5, A5 Coupe, and A5 Cabriolet
2019 Audi A6
2019 Audi A7
2019 Audi A8
2019 Audi e-tron
2019 Audi Q5
2019 Audi Q8
2019 Audi RS3
2019 Audi RS7
2019 Audi R8 and R8 Spyder
2019 Audi S3
2019 Audi S5
2019 Audi S6
2019 Audi S7
2019 Audi TT Coupe, Roadster, TTS Coupe, and TTS Roadster (available)
If you're after a premium vehicle with Apple CarPlay compatibility, those are your many options. And for the Android users out there, don't worry: The listed vehicles also offer compatibility with Android Auto, allowing you, too, the ability to link your smartphone with your new Audi.
To test drive any of the vehicles in Audi's sterling lineup, visit our Los Angeles area Audi dealer today. At Audi Ontario, our trained and experienced sales staff are here to assist you through every step of the new car buying process, from first test drive to last signature. Give us a call at 866-798-3521 or contact us online to setup a visit: You'll be glad you did, and we'll be glad to see you.