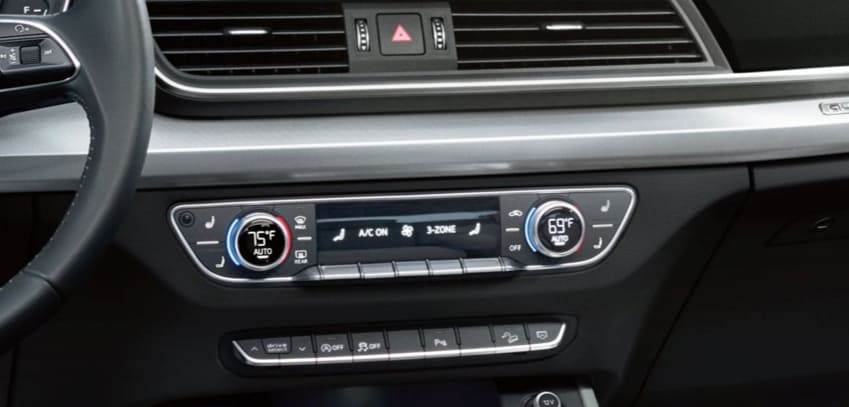 Heat is just part of life in Los Angeles, and a car with good air conditioning is an absolute necessity. There's nothing worse than climbing into a hot leather seat with no hope of relief, or being forced to drive windows-down on the highway due to a lack of AC airflow.
If your Audi's AC is struggling to deliver that cool, crisp air that need, it could be for any one of a number of reasons. Here's some of the most frequent problems that we've observed at our Los Angeles area Audi service center.
Reasons for Weak Air Conditioning
AC complaints usually fall into one of two categories: Either the airflow isn't strong enough or the air isn't cold enough. Here's why it might be cold, but you're not getting enough of it.
Loose hose or failing seals: Your AC might be delivering weak airflow for a very simple reason: the blower hose could be loose, or one of the seals connecting various channels through the AC system has gone bad. If that cold air is leaking out somewhere along the way, you'll notice it on a hot day.
Mold/mildew accumulation: To create cold air you need to generate a lot of moisture. A lot of moisture can lead to mold or mildew, which can gum up the channels throughout your AC system and limit airflow significantly.
Ventilation fan problems: If the ventilation fan isn't spinning correctly, that cool refreshment you need might never get to you.
Reasons for AC that Isn't Cold Enough
Sometimes, your air conditioning will blow strong, but the air won't be nearly as cold as you need it to be on a scorching Los Angeles afternoon. Usually that's a result of component problems rather than loose connections or mold accumulation. Your AC might not be cold enough due to:
Problems with the blower motor, condenser, or evaporator.
Vacuum leaks.
Freon leaking due to a bad hose, o-ring, or seal.
Issues with the compressor or compressor clutch.
Audi AC Service near Los Angeles
These and other reasons can lead to disappointing AC performance. Luckily, the team at Audi Ontario can help. The licensed Audi mechanics in our service center can diagnose and fix the problem quickly, restoring your car's air conditioning system to the potent cooling force it was the day you drove your Audi off the lot. Schedule your appointment with us today! And be sure to stay up to date on your Audi service intervals to avoid future complications with different systems in the car.