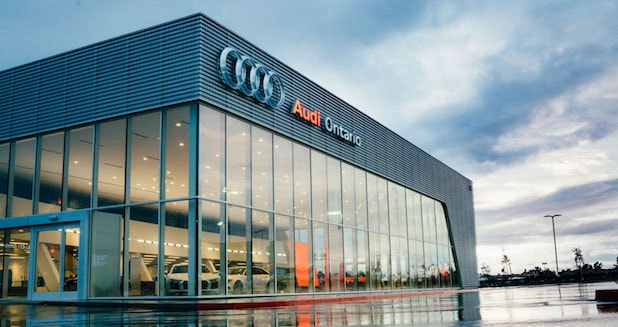 Audi Ontario Committed Customer Service, Audi Inventory, and All Your Automotive Needs
The luxury experience of Audi doesn't have to be limited to driving a Audi Q3, A4, A3, A6 or A5 when you choose Audi Ontario. We serve Ontario CA, Los Angeles, Rancho Cucamonga and Chino by embodying Audi in all its forms. From the moment you contact our Audi sales team to when you look for expert auto service, our automotive professionals are here to offer convenience every step of the way. Discover our commitment to your satisfaction when you come to Audi Ontario.
Audi Ontario Helps Make Car Ownership Simple
While our highly-sought-after luxury vehicles grab attention thanks to their dynamic appeal and quality features, we'll make sure you find the right Audi model that fits your needs, and at a pace, you're comfortable with. We guide you through the process from exploration to finalizing the sale with financing. After your purchase, we're here to provide quality luxury automotive car care, with services that ensure your vehicle will perform to the fullest of its abilities all while keeping your guest satisfaction levels high.
Visit Us from Los Angeles, Rancho Cucamonga and Chino Today to See What We Offer You & Your Vehicle at Audi Ontario
If you're ready to test drive a new or used Audi model, discuss routine maintenance and parts, or to learn how we can assist you in selecting a financing solution, visit us at Audi Ontario. We're waiting for you to visit so we can share with our expertise in all things related to your Audi Q3, A4, A3, A6 and A5. If you have questions, we're ready to hear them so we can provide you with the answers you need.