It seems like automotive technology moves ahead by leaps and bounds every model year, and you can always count on Audi to lead the way. This manufacturer has plenty to offer, whether you prefer your tech centered around performance, such as the groundbreaking Audi quattro® permanent all-wheel drive system, or the intuitive Audi MMI® operating system that manages all your infotainment needs. Tech is everywhere, and especially on our future concept vehicle, the Audi Q8. Learn more about upcoming new concept cars from our Audi dealer serving Los Angeles.
2019 Audi e-tron®

As Audi moves forward into the future, its e-tron® line becomes fully electrified, graduating from the powerful and innovative hybrid drivetrain that has taken over the market and become a leader in hybrid technology. From hatchbacks and coupes to sedans and SUVs, e-tron® promises to bring change and innovation to the automotive industry.
Built on nearly 40 years of racing expertise, all e-tron® vehicles will pack the power and handling capability that comes with the Audi name, not to mention the legendary quattro® all-wheel drive system. As lithium-ion battery technology evolves, the e-tron® will be able to provide longer and longer trips between charging, and the ever-growing network of public charging stations will make it easy for you to drive cross-country with no problems.
The e-tron® lineup will enable you to remotely access and manage your car with Audi mobile apps, and the next-generation driver assistance systems that will be available will help ease the difficult parts of your commute.
310 mile battery range
0-60 in 4.5 seconds
Lithium-ion battery in floor of passenger compartment
320kW of power at 590 lb-ft of torque
Los Angeles area drivers looking to harness the power of e-tron® now can still take a look at the 2018 A3 Sportback e-tron®, available now at our Audi dealer.
2019 Audi A7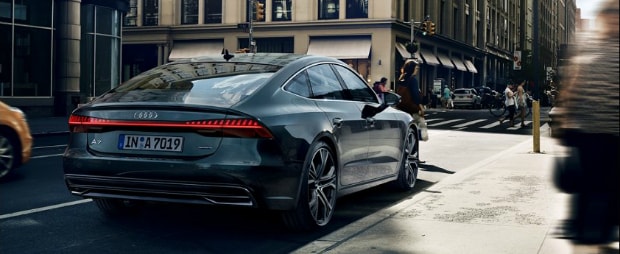 The all-new 2019 Audi A7 is a fresh take on a reliable classic. This sedan has gotten a considerable upgrade, now with a rear LED animated light setup, refreshed silhouette, and reimagined driver-centric cockpit. The spacious interior has also received a number of upgrades, the most noticeable of which is an increase in rear-passenger comfort.
The intrigue continues with high-end tech, as this model is now furnished with next-level driver assistance technologies, comfort features managed from the intuitive dual haptic touchscreens, and the next evolution of the Audi virtual cockpit. This next step takes the current features and increases processing speeds, higher resolution, and 4G routing in the cloud thanks to Audi connect®.
Needless to say, we're looking forward to seeing what this new Audi can do for our Los Angeles area drivers.
LED taillights with dynamic signals
Audi connect® with 3D city model connected navigation
Seating for five
New front fascia
2019 Audi A8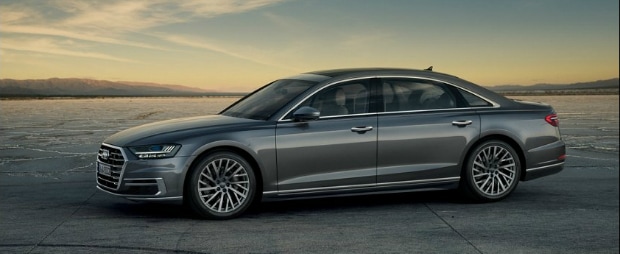 The next model to get a makeover for 2019 is the Audi A8. This hybrid sedan will be a game-changer in the automotive industry, offering new connectivity features that will benefit every driver. Its reinvented exterior design is captivating, and sure to turn heads wherever you are, thanks in no small part to the Intelligent OLED taillights with animation. Inside, the addition of the executive rear seat package adds monitors in the backseat, making it easier to take your work with you wherever you go.
Los Angeles area Audi technophiles will adore the all-new 2019 A8, which is not only tech-friendly, but comes with its share of groundbreaking connectivity and safety features. Upgrades across the board- Audi virtual cockpit, Audi connect®, and the innovative Audi MMI® touch response- result in a more refined and intuitive experience than ever before.
Dual haptic touch screens
Audi adaptive driving assistant
Audi pre sense® 360
48V Mild Hybrid Electric Vehicle
Audi Q8 Concept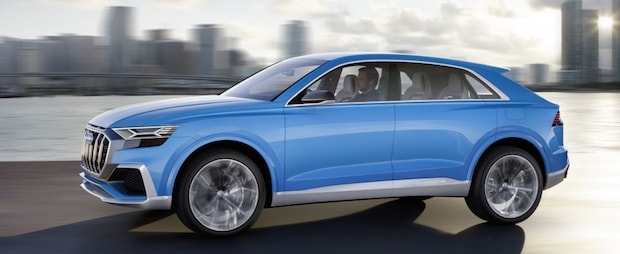 The Audi Q8 concept model perfectly melds a coupe and a full-size SUV, all powered by an efficient plug-in hybrid engine. Its classic coupe-like roofline exudes sporty sophistication, but frameless doors opened by touch sensors, complemented by taut lines and a considerable size, craft a futuristically formidable presence on the road. Its 16.5-foot length leaves plenty of room for four passengers and the luggage they need for every adventure!
This groundbreaking new Audi will serve Los Angeles area drivers without compromising on capability or efficiency. It will hit the market in 2018, and we're looking forward to helping you get behind the wheel! Here are some things that you should know before you experience the Q8:
0 - 62.1 MPH in 5.4 seconds.
Combustion engine and electric motor hybrid
Eight-speed Tiptronic® transmission
2.5-hour charge time
New enlarged touchscreen
A totally reimagined dashboard unlike anything you've ever seen an Audi awaits you in the Q8. An expanded version of Audi's Virtual Cockpit concept caters to the driver, while a 12.3-inch touchscreen manages your media and your drive. You're connected to your vehicle at every turn, as you can select drive modes through this screen as well. The reduction of buttons and switches has resulted in a clutter-free driving experience with an unfettered view.
The Audi Q8 will surely be a new frontier for a manufacturer who's never shied away from a challenge. Until it arrives on our lot in 2018, you can contact Audi Ontario serving Los Angeles, Chino, and Rancho Cucamonga and talk to us about what we have in stock!