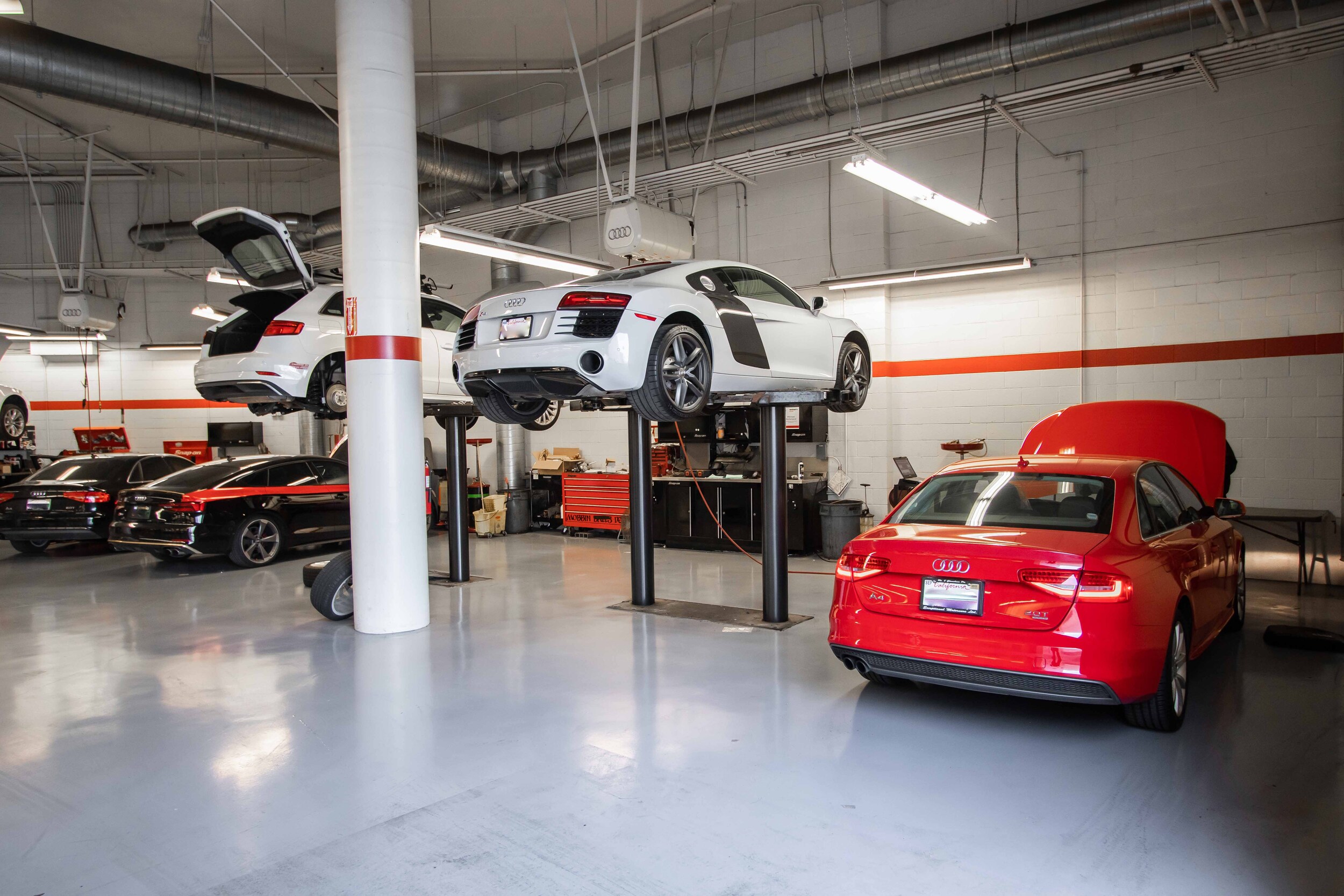 Our Audi Service Center is open. We are taking every precaution to provide a clean & safe environment for our guests. Click to learn more about our Corona Virus Response.
Our Audi service center in Ontario is here to address any of your vehicle's maintenance and service needs to keep it on the road and running as it should. With a dedicated service team and countless resources, we've been helping local Audi drivers in and around Los Angeles keep their beloved vehicles running strong for years. Check out what we have to offer:
Schedule Audi Service

With Audi Ontario, we want it to be as easy as possible for you to get your car in for necessary maintenance or important mechanical work. That's why we offer you the convenience to be able to schedule your service appointment online from the comfort of your home!
Audi Care
Audi Care is a prepaid maintenance plan for your Audi that gives you great service benefits, with free scheduled maintenance at 15,000, 25,000, 35,000, and 45,000 miles (and Audi Care Plus also includes 55,000, 65,000, and 75,000 mile appointments). It covers important system inspections, oil and oil filter replacements, tire inspections, air filter replacements, and more.
Audi Maintenance Schedules
At certain mileage milestones, you'll want to make sure everything on your Audi is functioning properly. Check out our Audi service intervals resource to see when each component on your specific Audi model is due for an inspection or replacement!
Audi Service Coupons
At Audi Ontario, we're proud to offer great Audi service coupons to help you get the best deal on whatever mechanical needs your car may have. From tire replacement or wheel alignment specials to discounts on major fixes, we've got you covered with an excellent Audi service specials.
Audi Roadside Assistance
Audi Roadside Assistance can help you out 365 days a year, 24 hours a day in the United States. The benefits are provided under Audi's Limited New Vehicle Warranty.
Audi Recalls
Now and then, a manufacturer will realize a particular system isn't functioning as it should be, or that a small component is liable to break, and they'll issue a recall to address it, usually at no consumer cost. Although it doesn't happen often, it does occasionally, so it's good to check our Audi recalls tool to see if there's any relevant recalls out for your Audi vehicle.
Audi Repair
In addition to performing regularly scheduled maintenance or resolving recall issues, our Audi service center is here to help with any repairs you may need. Audi sedans, coupes, and SUVs are masterfully crafted but components can wear down over time and accidents do happens - and that's where we come in. If you need your brakes repaired, a tire patched, the engine tuned, your windshield repaired because a rock skipped up and caused it to crack, or anything else Audi-related, bring your vehicle to Audi Ontario today.
Audi Service Near Me
If you're in Ontario, Los Angeles, Chino, Chino Hills, or Rancho Cucamonga and you need a trusted Audi service center, look no further than Audi Ontario. With a convenient location and hours that allow you to drop your vehicle off before work, we cater distinctly to your needs. Contact us if you have any questions for our service center.
Service Hours
Monday

7:00 am - 6:00 pm

Tuesday

7:00 am - 6:00 pm

Wednesday

7:00 am - 6:00 pm

Thursday

7:00 am - 6:00 pm

Friday

7:00 am - 6:00 pm

Saturday

8:00 am - 4:00 pm

Sunday

Closed