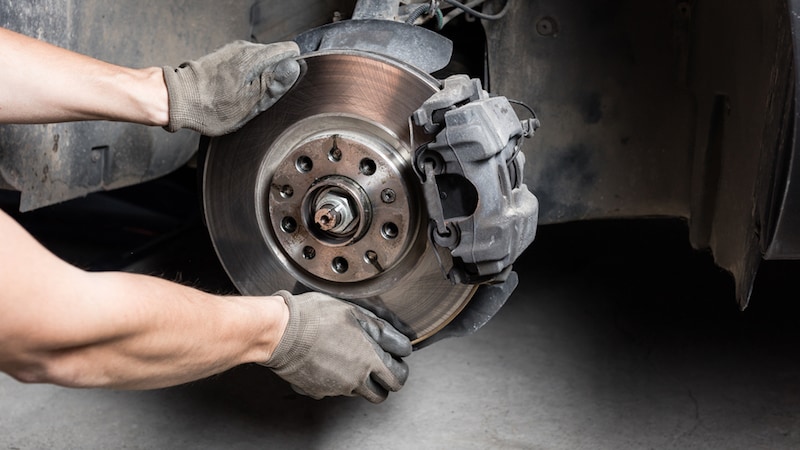 For quality Audi brake repair and service or replacement Audi brakes and brake pads, visit our service center conveniently located in Ontario, CA.
One of the most important safety features on your vehicle, your brakes should not be neglected until it's too late. Keeping up with service and maintenance is essential to optimizing your vehicle's brake time and could be the difference between narrowly avoiding a collision and being the reason you're in a collision. Our Ontario Audi service center serving Chino and Rancho Cucamonga area drivers is staffed with certified Audi technicians that will replace your brakes with the expert care you deserve and can even give you brake inspections to see when it's time to replace them.
Do Your Brakes Need to be Repaired or Replaced?
The great thing about brakes is that they always give you warning signs before it's too late to replace, repair, or service them--you just need to know what to listen and look for when you're behind the wheel. Generally speaking, brake pads should be replaced every 50,000 miles, but every car is different depending on a number of factors, such as your driving habits, the environment you drive in, the hardness of brake pads, and the materials that make up the brake rotor. Our Audi service intervals act as a handy guide to know when to bring your car in, but here's a few things you should be looking for:
Brake Pad Thickness: You should be taking a look regularly to see how thick the brake pads are. Whenever you get your tires rotated or your oil is changed, ask the mechanic to take a look at the brake pads, as well.


Squealing or Scraping Noise: At the very bottom of the brake pad, there are small metal hairs that make a squealing noise whenever the brakes are engaged. These are there intentionally to let you know when it's time to replace them, and it shouldn't be ignored.


Jittery Braking: Often, this indicated warped brake rotors. Some treatments can clean or grind down the surface in order to make it flat, but most of the time, replacing it is the safe and smart option. Our certified techs will let you know what the best option for you is.
When Should I Replace My Audi Brakes?
Your brakes are one of the most critical safety features on your Audi vehicle and should never be neglected. Be sure to schedule an Audi brake replacement at our Ontario Audi service center serving Chino and Rancho Cucamonga if you notice any of the following warning signs:
Alarming Noises: It's never a good sign to hear noises coming from your brakes. If you hear scraping, squealing, grinding, or other sounds when you press on the brake pedal, it means that your brake pads are worn out and need to be replaced immediately.
Delayed Response Time: Is it taking longer than usual to bring your car to a full stop? Your Audi vehicle's brake pads and rotors may have worn down, which significantly reduces their stopping power and effectiveness in critical situations.
Warning Light: A warning light illuminated on your Audi vehicle's dashboard is the most obvious sign that something is wrong. Pay attention to this indicator light and swing by Audi Ontario for Audi brake replacement or brake rotor replacement as soon as possible!
Audi Brake Replacement Near Los Angeles
Properly functioning brakes are key to safe performance and play a crucial role in keeping you and your family safe on the road. At the first sign of brake trouble, reach out to our Audi service center near Los Angeles to schedule a service appointment. Our team of certified technicians specializes in Audi brake replacements and Audi brake rotor replacements, and can get you back on the road fast! We can even perform a comprehensive brake inspection to ensure excellent performance and peace of mind. After all, no one knows your vehicle and its components better than our certified service experts!
How Much Does An Audi Brake Replacement Cost?
Every vehicle has different needs, which means the price for an Audi brake replacement ultimately depends on the scope of work. Drivers in need of Audi brake pad replacements or brake rotor replacements can always contact our service center to schedule an appointment and receive an estimate. We believe in transparency and will not perform any maintenance or repair services without your authorization first. Our team is always upfront about pricing and encourages you to explore our Audi service specials before visiting our Audi service center near Los Angeles to save on necessary maintenance.
Why Visit Our Audi Service Center?
If you could control when your brakes needed repairs or replacing, you wouldn't need a service center with long hours--but you can't control it, and we do have long hours so our schedule can fit around yours and you don't have to worry about waiting an extra day to get urgent work done. We're open from 7 a.m. to 7 p.m. Monday-Friday, and 8 a.m. to 4 p.m. on Saturday.
We also offer great Audi service specials to Ontario drivers who are looking to save more money on already-affordable service. They are constantly rotating and often include brake pad specials, so be sure to check them out before you come in.
Service Reviews
"The waiting time is not too long and the problem always fixed on time! Plus the loaner car always very nice and clean reserve for you if the service can't be done the same day!" - AUDI KING (DealerRater)
"My previous visits have always been good and my last one was no exception. The service department easily identified the problem and fixed it. My adviser kept me updated throughout the process and was courteous and professional." - aj14344 (DealerRater)
Owner Resorces
We also proudly serve Chino and Rancho Cucamonga area drivers, so feel free to contact our Ontario Audi service center today to schedule a brake repair. Our team will let you know if your Audi brakes need to be replaced or serviced.