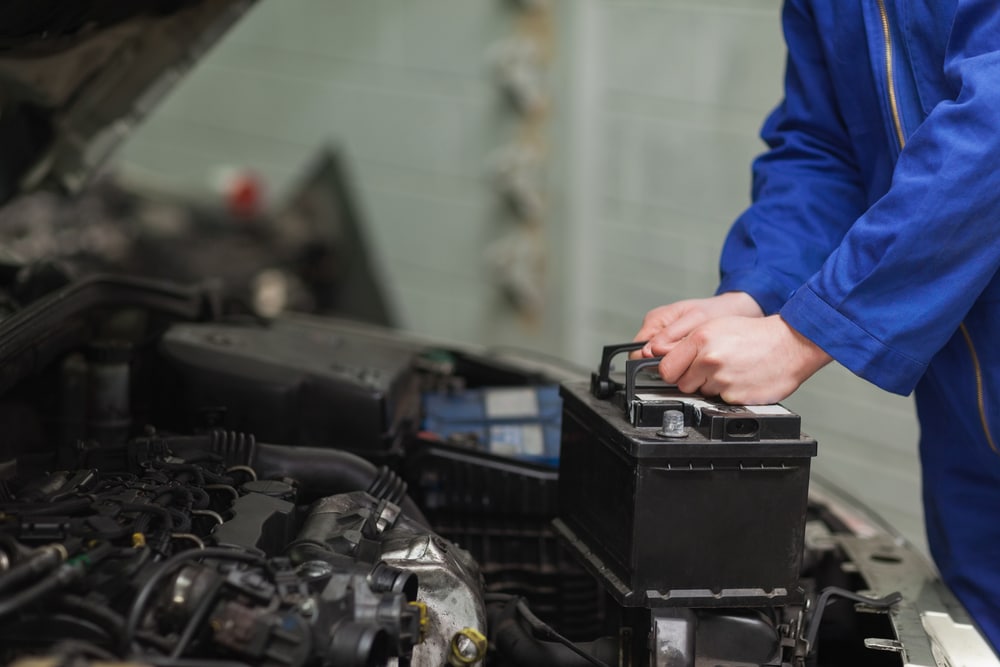 When it's time for an Audi battery replacement, Audi Ontario is the place to go. Not only does our Audi parts department carry new car batteries, but our service team can help install one to get you back on the road in no time.
Your car battery is essential to your Audi's performance--after all, the vehicle won't start without it.
Though car batteries can last a long time, their lifespan varies dependent on factors like usage and conditions. If you don't drive your Audi daily, the battery might not last as long. Likewise, if you're prone to leaving the dome light on and having to later ask for a jump, your battery life will also suffer. Heat can have particularly adverse effects on car battery life, so Ontario drivers should pay particular attention to how their battery is performing.
Time For an Audi Battery Replacement?
There's a few things to look for when determining whether you might need a new battery 
Battery age: If you've owned your Audi for three years or more, the battery might be starting to wear out, so you should regularly pay attention to the other factors on this list once you've reached that point.
Slow startup: When you turn the key, does your Audi instantly spring to life? Or does it have to crank for a few seconds before the engine fires up? Prolonged engine crank can be a sign of a weak battery. 
Swelling or Fluid Leak: If there's corrosion on the battery's attachment posts, it may be leaking fluid. That corrosion can short the connections and make your car hard to start. Also, if the battery case appears to be bulging, it could be from excessive heat, and that also means a replacement might be in your future.
Low fluid level: Most car batteries will have a translucent strip in the casing on the side that allows you to check the fluid level, with a corresponding line for the minimum amount. You may have to remove the battery from your Audi to check this, though, so be sure you're confident in doing that.
If you notice any of these, or a check engine light that you can't explain (sometimes weak battery causes that), give our Audi Ontario service center a call. We'll help replace your Audi car battery.

How Long do Audi Batteries Last?
While the average lifespan of a car battery is about three years, there is a wide variety of additional factors that can contribute to batteries either lasting longer or wearing out before that three-year benchmark. 
Unfortunately, mother nature has shown time and time again that it poses the biggest threat to your vehicle's battery. Car battery issues are often associated with colder weather but their real kryptonite is the heat. When batteries warm-up due to the scorching hot weather in the Ontario area, the liquids inside begin to evaporate and eventually lead to corrosion and internal damage. 
With this being said, our certified technicians here at Audi Ontario recommend that you have your Audi batteries tested every 2-3 years. 
How Much Does an Audi Battery Cost?
When purchasing a battery from our Ontario area Audi dealership, the price typically depends on which battery you elect to go with and what other services your vehicle may be in need of. There's absolutely no reason to break the bank at our dealer, however, as we provide our customers with the best possible rates on all Audi products.
Be sure to browse our service specials before you visit us as we offer multiple ways for you to save on your vehicle's service and parts at Audi Ontario.
Where is the Battery in an Audi A4?
Every once in a while we hear of our customers struggling to locate the battery in their vehicle but there's no need to worry, we're here to help. Depending on the year of your Audi A4, your battery can be found towards the rear of your engine compartment in front of the firewall or conveniently located in the trunk of your vehicle. 
If you pop your hood and are unable to locate the battery near your engine bay, it's likely a telltale sign that it's positioned elsewhere. Some Audi A4 models offer an easily-accessible battery housing located in the truck, underneath the spare tire. To gain access to it, simply pull up the floor panel, twist the large wingnut counterclockwise, and then pull up the spare tire and the tray it rests on. You should now have successfully located your battery. 
Why Service with Audio Ontario: 
Convenient Service and Parts Hours
Service Specials
State-of-the-Art Audi Service Drive
Genuine OEM Audi Parts
There's so many reasons to choose Audi Ontario for all of your Audi service needs. We're conveniently located near Chico and Rancho Cucamonga, and our service and parts departments offer accessible hours--open until 7:00 PM most evenings. We offer genuine OEM parts, and often run great service specials to help you get the best deal on necessary maintenance.
If you have any questions, give our service department a call or contact our parts department. And if you're ready to schedule service for your Audi, you can do that from the comfort of your home with our handy online scheduling tool.
Service Reviews
"I am very pleased with my service experience. Great customer service and professionalism. Definitely recommend Audi Ontario." - Sandra T (DealerRater)
"Great Service form Audi Ontario. All steps of the service was outstanding and the service advisor did a great job to keep me informed on the vehicle status at all time." - actionA3 (DealerRater)
Owner Resources:
Audi Service Intervals