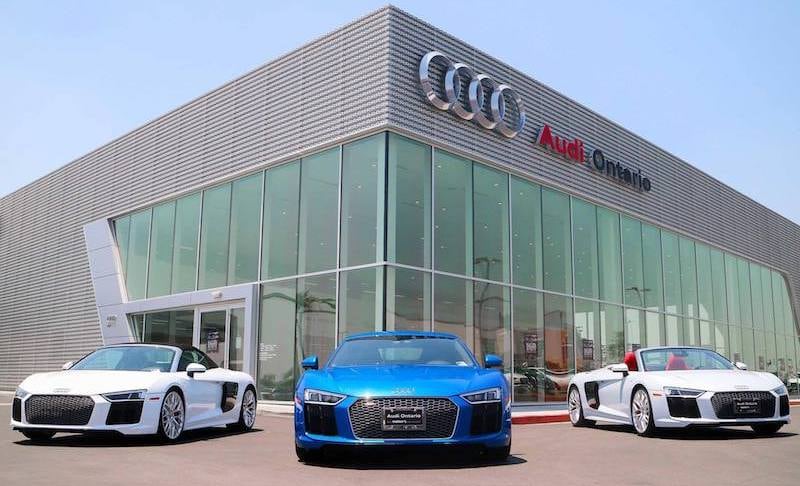 At our Los Angeles area Audi dealer, we know you expect nothing but the best from us, so that's what we give you. An unparalleled selection of new quality vehicles, customer service second to none, and certified technicians that can service any make or model with efficiency, expertise, and in a timely manner are all only a 40 minute drive away for Los Angeles area drivers.
Used Cars For Sale At Los Angeles Area Audi Dealership
Our dealership stocks nearly 20 different makes of pre-owned cars in our selection of used cars for sale near Los Angeles. Ranging from economical and affordable like Hyundai and Ford to downright luxurious like Audi and Porsche, we have the car to fit everyone's needs.
We also stock a selection of Audi Certified Pre-Owned vehicles, which have all gone through a rigorous 300-point inspection performed by our certified technicians. Only models that are five years old or newer and have fewer than 60,000 miles are eligible for certification, which means certified pre-owned models drive like new for a fraction of the price.
Los Angeles Audi Shoppers Love Audi Ontario
"I bought my car over 2 years ago at another audi dealer. I just moved to the Ontario area and decided to take my car to the Ontario Audi dealer for its service. Although I am not in the market for a car at the moment, I would definitely consider purchasing or even trading in my car at this dealer when that time comes. Staff is so welcoming and friendly!" - Ally S. (Los Angeles, CA)
"I was in the area when the TPMS light on my 2010 Audi S5 went off so I decided to stop by here to get it checked out. The only service advisor working that Saturday afternoon went above and beyond to remedy the issue. Special thanks to my service advisor for the excellent customer service!" - JC D. (Los Angeles, CA)
"This dealership was top notch! Everyone went above and beyond to make us feel comfortable. This was my first experience with Audi Ontario and it won't be the last. We are already planning to buy our next car with them." - TheFrenchieMom J. (Los Angeles, CA)
"This place was so nice and clean. They have nice waiting area. If you do like coffee, they do have a lot of kcups flavors." - Bee B. (Los Angeles, CA)
Los Angeles Area Audi Dealer Helps Customers Every Step of the Way
Your relationship doesn't have to end with us once you drive off the lot. Come back to get your car serviced with our certified technicians at our state-of-the-art Audi service center, where we perform all kinds of routine maintenance procedures and major repair work. Schedule an appointment online today and come on in for quick service and a comfortable customer lounge where you can spend time while waiting.
For more information about available services and new & used Audi models, visit Audi Ontario serving Los Angeles at 2272 E. Inland Empire Blvd., Ontario, CA 91764, or contact us today.