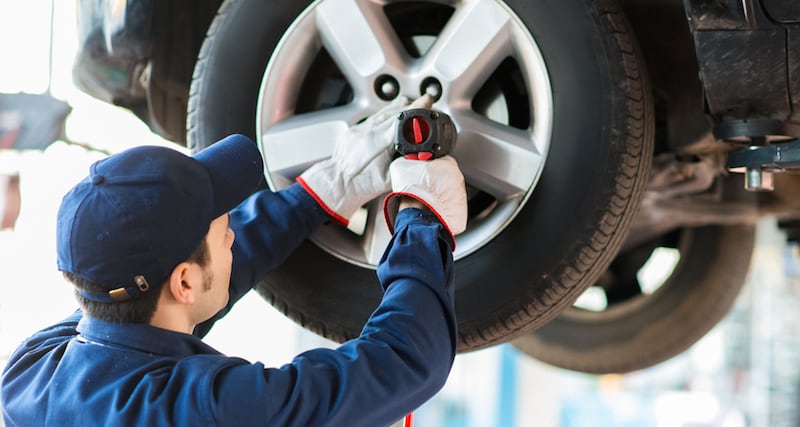 If your Audi tires need to be replaced, repaired, or serviced, visit the Audi Ontario tire center. We'll get you back on the road in a timely manner.
Tires are your vehicle's only point of contact with the ground, so it stands to reason that keeping them fresh and replacing or repairing them when necessary is a vital to keeping your car healthy and driving the way that it should. If you have a flat, or if that pesky TPMS light won't go out, or if your current Audi tires are worn down, Audi Ontario is your go-to dealership for quality service. Our Ontario Audi service center will get you patched up and ready to go or set up with new tires that fit your budget and your vehicle, all done with the expert care of Audi certified technicians.

Is it Time to Replace Your Audi's Tires?
Most of the time, you'll know when your tires need replacing--depending on your driving style, new tires are expected to last anywhere from 25,000 to 50,000 miles before they need replaced. Since this is such a huge range, it's important to keep close track of them to be able to truly know when they need to be replaced. Our Audi service intervals will give you an idea of when to check tire pressure and for wear and tear. Some wear and tear signs you should be wary of include:
Tread depth
Tread wear indicator bar
Cracks in the sidewall
Bulges and blisters
Too much vibration
It's a good idea to get your tires rotated on every other oil change as a general rule of thumb--this keeps the tires fresh and will force them to wear down evenly so you are always driving on four tires with roughly the same amount of tread.
Does Audi Care Cover Flat Tires?
Audi Care is a prepaid maintenance program that is offered to our valued customers to ensure that their vehicle continues to run at peak performance. One of the most frequently asked questions about this service is whether or not flat tires are covered by Audi Care. While Audi Care doesn't include tire replacement, it will cover an inspection of tires and spare tires. Here at Audi Ontario, it's our pleasure to inspect your tires for any signs of excess wear or damage and we will gladly adjust your tire pressures to their desired amounts. 
Does The Audi Warranty Cover Tires?
Unfortunately, tires are not warranted on our certified pre-owned vehicles but they may be separately warranted by the tire manufacturer. On the other hand, here at Audi Ontario, we offer a generous New Vehicle Limited Warranty that will, in fact, cover your vehicle's tires for the first four years or 50,000 miles, whichever occurs first. 
The Limited Warranty also includes four years of Audi 24-Hour Roadside Assistance to put your mind at ease if at any time during the day, you run into tire trouble and are unsure how exactly to equip your spare. Oh yeah, we almost forgot to mention, this warranty and all of its perks come at absolutely no charge to you. 
Can You Replace One Tire on an Audi quattro? 
While it is possible to replace a single tire on an Audi quattro® model, our professionals here at Audi Ontario strongly suggest against it. Front tires on all-wheel drive vehicles typically wear quicker than those on the rear axle and although it's tempting to simply replace a single tire, it could cause harm to your beloved vehicle. 
Audi quattro® models are, of course, all-wheel drive, meaning that all four tires are producing power at the same time. If you elect to replace a single tire on your vehicle, that new tire - being full of tread - will now all of a sudden be the largest tire on your vehicle. When wheels begin spinning quicker than others, it could create a false sense of slippery road conditions and eventually trigger your vehicle's four-wheel lock feature, a gear that is used for driving in hazardous weather. 
You may think the difference between a new and used tire is minuscule but today's all-wheel drive systems include sensors that monitor traction and wheel speed hundreds of times per second. You may not realize the difference behind-the-wheel, but your Audi certainly will. Bottom line, for the best in safety and performance, it is highly recommended to replace all four times at the same time.
Why Visit Our Audi Service Center?
We know that you can't control when you need your tires replaced or repaired, so why would we make you wait? Our service and parts center is open 12 hours from 7 a.m. to 7 p.m. Monday-Friday, and our Saturday hours are 8 a.m. to 4 p.m. Stop in whenever it's convenient for you.
Ontario area drivers who take a look at our Audi service specials are already ahead of the game--we offer great deals on all kinds of services, including tire replacements and rotations. We only offer OEM parts, and our selection of tires that match your Audi is nearly endless. If we don't have what you need in stock, we can get it for you. Our state-of-the-art equipment ensures your vehicle is in safe hands.
Service Reviews
"The best service I ever got. The service advisor when out of his way to accommodate me with a loaner." - Ara (DealerRater)
"A week or so ago I took my A4 in to Walter's Audi Ontario to have a tire replaced. My service advisor welcomed me and immediately set the wheels in motion to service my vehicle. His professionalism was A-1, as was his follow-up. My auto was taken care of in a timely fashion and I was on my way in a reasonable amount of time. My service advisor receives a 10 in my book, as does the Service Dept." - Audimann (DealerRater)
Owner Resources
Ontario, Chino, and Rancho Cucamonga area drivers can contact our Ontario Audi service center today to make an appointment for any tire-related service required including repairs or replacements.