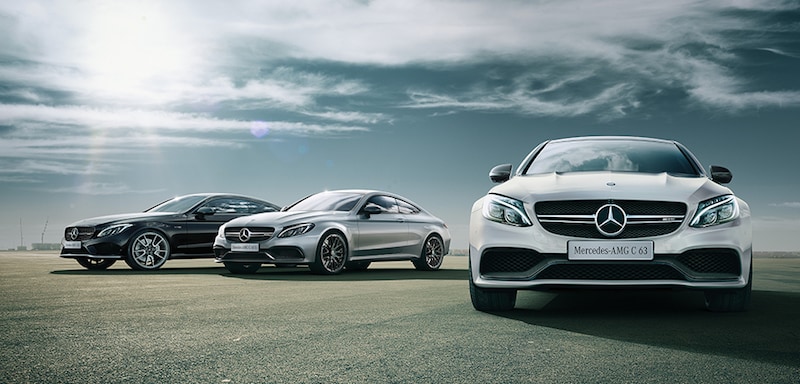 Mercedes-Benz started in 1886 with the first gasoline-powered automobile, and hasn't looked back since. A history of cutting edge innovations and industry-leading luxury transportation continues to write itself to this day. Standard equipment still used to this day was invented and perfected by Mercedes-Benz, such as front and rear crumple zones, seatbelt pre-tensioners, and anti-lock brakes.
Add on top of that the sleek, powerful presence that Mercedes-Benz models exude, and you've got a desirable car that is the obvious, go-to choice for anyone looking to hit the road in style.
Popular Mercedes-Benz Models
C-Class
CLA
E-Class
GLA
GLC
GLE
GLK
S-Class
An Award Winning Brand
Mercedes-Benz does more than just talk about its tradition of excellence--it backs it up. In 2015, Mercedes-Benz completed a hat trick at the World Car Awards, with the C-Class winning World Car of the Year, the S-Class Coupe winning World Luxury Car of the Year, and the AMG® GT sports car winning for World Performance Car of the Year.
That isn't the only time Mercedes-Benz earned a car of the year title. In 2014, the S-Class won World Luxury Car of the Year and more recently the GLC was named the 2017 Motor Trend SUV of the Year.
But that's not all, Mercedes-Benz was named to WardsAuto's 10 Best Engines list in 2017 for their 2.0L Turbocharged DOHC 4-cyl in the Mercedes C300. The C-Class also made the 2015 Ward's 10 Best Interior's Winner list.
Mercedes-Benz also routinely produces vehicles that are selected as IIHS Top Safety Picks because power and performance go hand-in-hand with safety. Year after year, Mercedes comes through on its promise to deliver "the best or nothing."
Contact us today to ask about our Mercedes-Benz inventory.