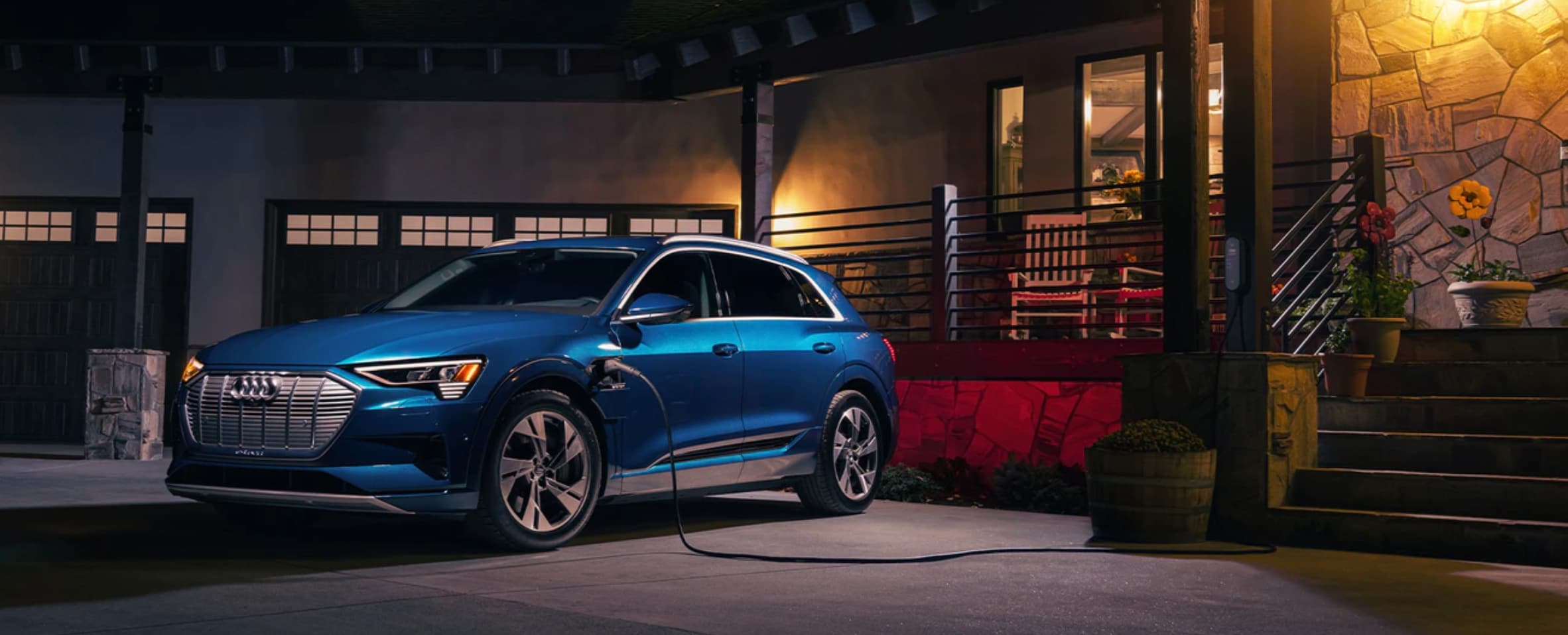 Luxury and sustainability are not mutually exclusive when it comes to the Audi brand. In fact, several Audi sedans and SUVs provide greener options, whether it be in the form of a hybrid or an electric car. This is due in large part to Audi's new line-up of e-tron models which is just one step towards a more efficient future. The Audi brand hopes to reduce CO2 emissions and become carbon-neutral in balance, as a company, by 2050. Learn more about future Audi electric cars.

At our Audi showroom in Ontario we are trilled to offer the following Audi electric cars and hybrid vehicles.
Audi e-tron® GT
The 2022 Audi e-tron® GT features a sleek and sporty aerodynamic design, quattro all-wheel drive, and a 93.4 kWh lithium-ion battery pack. With an 800-volt electrical architecture, the e-tron® GT comes standard with the ability to charge at an industry-benchmark 270 kW using DC fast-chargers. This allows it to replenish its battery from 5-80% in just 22.5 minutes - among the quickest charging rates currently available of any EV.
Audi e-tron® SUV
The Audi e-tron® is a fully-electric SUV that still provides all the power you'd expect from an SUV with the Audi name on it. Pair that with a spacious interior, quattro® all-wheel drive, towing capabilities, and you've got yourself a great SUV by any standard. In addition, the 2021 Audi e-tron® offers an EPA-estimated 222 miles on a full charge.
Audi e-tron® Sportback
The Audi e-tron® Sportback is another model in the e-tron line, only this one features a sportback design meaning you get the best of both worlds with a spacious interior, quattro® all-wheel drive, towing capabilities, and a more aerodynamic bodystyle. Think of a 4-door coupe. It's range is likewise appealing too.
Audi Q5 Plug-In Hybrid
The 2021 Audi Q5 plug-in hybrid is everything you love about the Q5, but with the added bonus of a sophisticated hybrid drivetrain system. That means you can extend vehicle range and make fewer stops to get gas. This plug-in hybrid SUV offers selectable drive modes plus the ability to drive an EPA-estimated 19 miles under electric-only power.  

Audi A8 e Plug-In Hybrid
The 2021 Audi A8 e plug-in hybrid offers local drivers style, refinement, prestige, and leg room. When you opt for the plug-in hybrid trim, which is equipped with a 60 TFSI e powertrain, you get the added bonus of an EPA-estimated electric range of 17 miles. So if you're in the market for a luxury sedan that makes daily driving both more enjoyable and efficient, the Audi A8 e is a wise choice.  

Audi A7 e
The 2021 Audi A7 Premium Plus and Prestige are both available in an e Plug-in Hybrid variant. That means drivers can enjoy the power and efficiency that only a turbocharged 2.0-liter four-cylinder TFSI® engine coupled with an electric motor and paired with a 7-speed S-tronc dual-clutch automatic transmission can provide. It's sleek sportback bodystyle also adds to its alluring nature.   

California Clean Fuel Reward Program Incentives
The California Clean Fuel Reward program offers incentives up to $1,500 to anyone who buys or leases a new electric vehicle with a battery capacity greater than 5 kWh. This instant electric vehicle reward is granted on a sliding scale, depending on battery size. You then must register the vehicle in California and reside in the state as well.
Discover Audi Electric & Hybrid Cars in Ontario

When you're ready to upgrade to a new hybrid or electric car or SUV, take one of these new Audi models for a spin. To learn more about the cost benefits of driving a hybrid or electric Audi, or to schedule a test drive, contact Audi Ontario today. We are conveniently located in Ontario, near Los Angeles.

Make an Inquiry
Hours
Monday

9 AM- 9 PM

Tuesday

9 AM- 9 PM

Wednesday

9 AM- 9 PM

Thursday

9 AM- 9 PM

Friday

9 AM- 9 PM

Saturday

9 AM- 8 PM

Sunday

10 AM - 7 PM