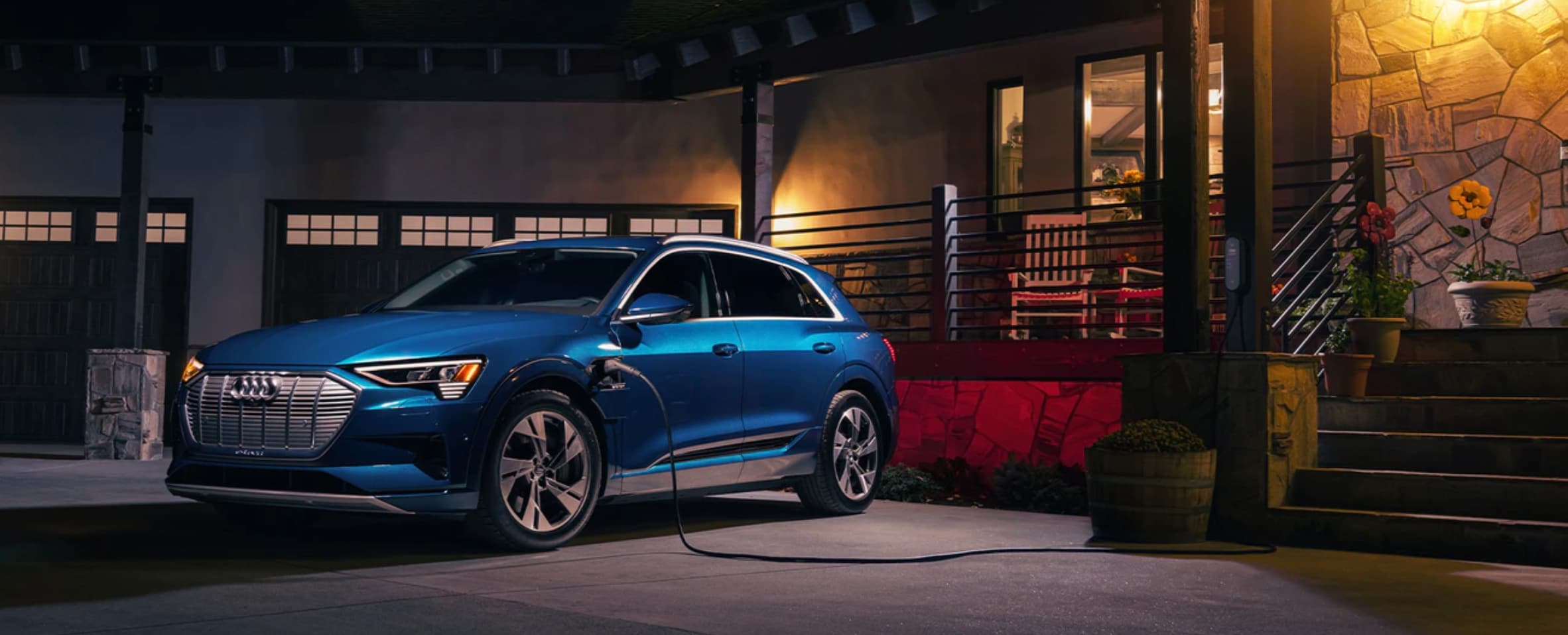 Luxury and sustainability are not mutually exclusive when it comes to the Audi brand. In fact, several Audi sedans and SUVs provide greener options, whether it be in the form of a hybrid or an electric car. This is due in large part to Audi's new line-up of e-tron models which is just one step towards a more efficient future. The Audi brand hopes to reduce CO2 emissions and become carbon-neutral in balance, as a company, by 2050.

At our Audi showroom in Ontario we are trilled to offer the following Audi electric cars and hybrid vehicles.
Audi e-tron®
The Audi e-tron® is a fully-electric SUV that still provides all the power you'd expect from an SUV with the Audi name on it. Pair that with a spacious interior, quattro® all-wheel drive, towing capabilities, and you've got yourself a great SUV by any standard. In addition, the 2021 Audi e-tron® offers an EPA-estimated 222 miles on a full charge.
Audi e-tron® Sportback
The Audi e-tron® Sportback is another model in the e-tron line, only this one features a sportback design meaning you get the best of both worlds with a spacious interior, quattro® all-wheel drive, towing capabilities, and a more aerodynamic bodystyle. Think of a 4-door coupe. It's range is likewise appealing too.
Audi Q5 Plug-In Hybrid
The 2021 Audi Q5 plug-in hybrid is everything you love about the Q5, but with the added bonus of a sophisticated hybrid drivetrain system. That means you can extend vehicle range and make fewer stops to get gas. This plug-in hybrid SUV offers selectable drive modes plus the ability to drive an EPA-estimated 19 miles under electric-only power.  

Audi A8 L Plug-In Hybrid
The 2021 Audi A8 L plug-in hybrid offers local drivers style, refinement, prestige, and leg room. When you opt for the plug-in hybrid trim, which is equipped with a 60 TFSI e powertrain, you get the added bonus of an EPA-estimated electric range of 17 miles. So if you're in the market for a luxury sedan that makes daily driving both more enjoyable and efficient, the Audi A8 L is a wise choice.  

Discover Audi Electric & Hybrid Cars in Ontario

When you're ready to upgrade to a new hybrid or electric car or SUV, take one of these new Audi models for a spin. To learn more, or to schedule a test drive, contact Audi Ontario today. We are conveniently located in Ontario, near Los Angeles.

Make an Inquiry
Hours
Monday

9 AM- 9 PM

Tuesday

9 AM- 9 PM

Wednesday

9 AM- 9 PM

Thursday

9 AM- 9 PM

Friday

9 AM- 9 PM

Saturday

9 AM- 8 PM

Sunday

10 AM - 7 PM